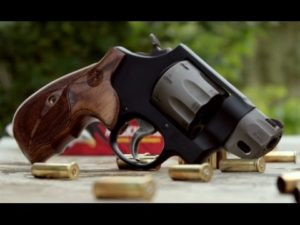 General Notes:
I receive frequent inquiries from people, asking if my holster for the "ABC Model" will fit their "XYZ Model".
There are dozens of handgun manufacturers, each manufacturer makes several models, and many offer variations in each product line. The result is that there are hundreds of distinctly unique handguns available to the consumer. As much as I might like to have one of each, it just is not possible. Even trying to keep up with each year's latest models can be very difficult.
Several companies make "dummy guns", cast replicas usually so accurate that the serial number of the original can be read, and these are a good resource for holster makers. I have dozens of these, and acquire more as demand for holsters dictates.
The "dummy guns" are typically available only for the more common current production handguns. As handgun models are discontinued by manufacturers, dummies become unavailable, and many holster makers drop the discontinued handguns from their product lines.
I also have quite a few older model handguns available, and I use these to make holsters to meet the demands of customers who like to use their older classic sidearms.
PLEASE NOTE THAT MY HOLSTERS ARE QUITE CLOSELY FITTED TO THE HANDGUNS THEY ARE INTENDED TO CARRY. THERE ARE NO "ONE SIZE FITS SEVERAL" MODELS IN MY PRODUCT LINE.
IF YOU HAVE ANY QUESTIONS REGARDING PROPER FIT FOR YOUR HANDGUN, PLEASE CONTACT ME AND I WILL TRY TO HELP.
REMEMBER, USING A HOLSTER INTENDED FOR ONE HANDGUN MIGHT POSSIBLY BE DANGEROUS WHEN ANOTHER HANDGUN IS INSERTED OR CARRIED! BE SURE, AND BE SAFE!
Current List of Handguns Lobo Can Accommodate
Browning
1911-22
1911-380
BDM
Hi-power and all variants
Beretta
92,
92fs
92fsc (compact)
90-two
94 FS Cheetah **NEW
96-A1
px4 storm (.45 auto)
px4 storm compact
PX4 subcompact
Nano
Pico
Cougar
APX ****NEW****
Bobcat ***NEW***
Colt
1911
Government Model
Commander
Combat CommanderOfficer
Defender
Delta Elite etc.
Single Action Army (SAA) revolver
Detective Special
Cobra
Cobra 2017
King Cobra
King Cobra 2019
Diamondback
Python
Anaconda
Trooper MkIII
Mustang XSP ****NEW****
CZ
83
75
75B
85-series
P-09
CZ 2075 Rami
CZ 75 D Compact
CZ 75 Shadow 2  **NEW
CZ 75 p-07  **NEW
CZ 97 B **NEW
CZ 75 p-01 **NEW
Chiappa
Coonan
Diamondback
FNH
Five-Seven
FNS-9,
FNP-40
FNP-9
FNX-45
FNX-9
FNH509
Glock
17
19
22
23
21
36
30
30S
31
26
27
36
20
32
29
40***NEW
41
42
43
43X
43X MOS***NEW
H&K
P2000
P2000SK
P7 M8
USP45
HK45
P30
P30L
P30SK
Kahr
P380
K9
P9
K40
P40
CW9
CW40
PM9
PM40
CW45
PM45 and similar model
Kimber
 K6S
1911-3" and all variations
1911-4" all variations
1911-4.25" all variations
1911-5" all variations
Micro .380 & 9mm
Solo
R7 Mako ***NEW***
KelTec
MASADA
MOSSBURG
NIGHTHAWK CUSTOM
Border Special
GRP Recon with rail
Dominator
GRP
Heinie Lady Hawk
Heinie Lady Hawk 2.0
Heinie Signature Comp
Heinie Signature Recon
Kestel
T3
T3 Stainless
T3 Thin
Talon
Talon 2
Talon 2 with CC curve
The Bull
Bull Commander
Predator 1, 2, 3, & T5
Rock Island
TAC series
(most variations based on the 1911 frame in all barrel/slide lengths)
Charles Daly (most variations based on the 1911 frame in all barrel/slide lengths)
Ruger
SP-101
SP-101 4.2"
GP100
LCR
New Model Vaquero
Mark 2
Mark 4 ***NEW
57
SR22
SR9
SR9C
SR40
SR40C
Single Six revolver
LCP (selected holster models)
SR1911 (most variations)
LC9
LCP380
LCP2
LCP MAX-380  ***NEW***
LCR
LCRX
LCRX-3
MAX-9  ***NEW***
Security Six
Service Six
Speed Six.
Super Blackhawk Bisley
Red Hawk
Taurus:
24/7
Model 85
Model 605
PT92
PT709
Judge
Raging Bull.
Sig Sauer SigArms
P6
P225
P228
P220
P229
P226
P227
P239
P230
P232
P224
P320 full sizer compact and sub-compact
P250
P290
P290RS- with sig laser
P365
P365 with sig laser
P365XL
SP 2022
Sig Pro 2340
Sig 1911 (most variations),
P938,
P238
Mosquito
P220 with rail
P322 ****NEW***
Springfield Armory
911**NEW***
1911-A1
XD 9mm
XD.40
XD.40 subcompact
XD 9 subcompact
XD9 compact
XD-45
XD-S 9 3.3"
XD-S.40 3.3"
XD-S.45 3.3"
XD-S 9 4"
XD-S.45 4"
XDM 9
XDM 9 compact
XDM.40 compact
XDM 9 4.5"
XDM 40 4.5"
Hellcat
XDE-9 ****NEW***
STI International
DVC
DVC carry
Staccato C
Staccato C-2
Staccato P
The eagle
Echo
combat master
2011 (most variations)
S&W AUTOS
22A ***NEW***
39
44
52-A
52
59
147A
410
411
439
457
459
469
539
559
639
645
659
669
745
910
915
1006
1026
1046
1066
1076
1086
3904
3906
3913
3913LS
3913LN
3913TSW
3914
3914NL
3953
3953TAC
3954
4003
403TSW
4004
4006
4006TSW
4013
4013TSW
4014
4026
4040PD
4043
4043TSW
4044
4046
4046TSW
4053
4053TSW
4054
4056TSW
4505
4506
4513
4516
4526
4536
4546
4556
4566
4567
4586
4596
5903
5903TSW
5904
5905
5906
5906TSW
5924
5926
5943
5943TSW
5944
5946
5946TSW
5967
6904
6906
6924
6926
6944
6946
CSX  ***NEW***
SW9C
SW9E
SW9F
SW9G
SW9P
SW9VB
SW9VE
SW40C
SW40VE
SW40F
SW40G
SW40GVE
SW40P
SW40V
SW99 (9/40 models)
M&P 2.0 - ALL VARIATIONS  **NEW
M&P 40C
M&P 9C
M&P 45
M&P 45 COMP.
M&P 9 FULL SIZE
M&P 40 FULL SIZE
M&P SHIELD .380 EZ  ***NEW!!
BODY GUARD
BODY GUARD WITH LASER
45 SHIELD
40 SHIELD
9 SHIELD
9 SHIELD WITH CTC LASER
S&W 1911 all barrel lengths and models
VICTORY
Smith & Wesson Revolvers (**all barrel lengths)
10
11
12
13
14
15
16
17
18
19
20
21
22
23
24
25
26
27
28
29
30
31
32
032
33
34
35
36
37
38
40
42
43
44
45
46
47
48
49
50
53
56
57
58
60
61
63
64
65
66
67
69
242TI
296TI
317
325PD
327
329PD
331
331SC
331TI
332SC
337TI
337SC
340SC/PD
342TI
342SC
351PD
357PD360
386
396
431
432
442
460
460xvr
500
520
520
544
547
581
586
610
617
619
620
624
625
627
629
631
632
638
637
640
642
646
647
648
649
650
651
657
681
686
696
940
942
986
governor model
*Most revolver barrel lengths and configurations accommodated.
Walther
PP
PPK,
PPK/s
PPS
PPS M2
PPX
PPQ
P99C
PDP- Compact
PDP-Full size
PK .380
PDP
Wilson Combat
Protector with rail
EDC 9 with rail
X-tac
Vickers Elite Commander
QCB commander
Professional
Protector Professional
Elite Pro
Pro lightweight
Pro LR Lightweight
Vickers Elite
the Classic
CQB
CQB Elite
X-Tac
CQB light Rail Lightweight
CQB Tac LE
Hackathorn Special
Tac Elite
EDC X9 with rail
Bill Wilson Carry
CQB commander compact
EDC9 Compact
Protector compact
X-Tac compact
CQB LR lightweight compact
Stealth
All of our holster designs can be fitted for semi-autos and Revolvers.
**If you do not see a gun model that you have, Let us know and we will work with you to try and get the mold gun
NOTE: there have been many "clones" made through the years, handguns copied from other makers and handguns marketed under differing trade names. Most of these are close enough to the original dimensions that a holster for one will work well with the clone, some are not.
INQUIRE WITH YOUR SPECIFIC NEEDS!
A NOTE ABOUT DIFFERENT HANDGUN MODELS
Things were much simpler when I started making holsters. Half-a-dozen handgun manufacturers, each making half-a-dozen different models. Now there are dozens of manufacturers, each offering dozens of different variations, and new handgun models are introduced almost daily.
Most holster making is done using "dummy guns", cast replicas of the originals frequently so accurate that the serial number can be read. Dummies are usually made only for current production handguns having a significant market share. When handgun manufacturers discontinue a model the dummy makers will drop it quickly. New handgun models may be on the market for a year or more before dummies become available, and most models will never be available as dummies.
The alternatives are:
1. The holster maker purchases the actual handgun, which will require significant demand to justify the expense; or
2. Make your handgun available for patterning and forming a holster. This requires some consideration of shipping costs, risks of loss or damage, insurance, safekeeping, and compliance with all federal, state, and local laws pertaining to firearms transfers. I do not generally recommend this course of action because of the expenses and inherent risks involved.
Look at the detail of the fitting of the holster displayed; it is intended only for the Springfield XD model. Other handguns may fit inside this holster, but none will be properly accomodated, and there could be safety issues based upon the type and location of the "controls" (safeties, magazine releases, slide stops, triggers, etc).
Each product by Lobo Gun Leather is hand-fitted to a specific handgun. Customers ordering a holster are responsible for making the proper selection.
Returns will not be accepted because of an improper fit, unless that situation occurs with a handgun of the specific make and model stated in the original order.
OWNERS OF CUSTOMIZED, ALTERED, AND MODIFIED HANDGUNS ARE URGED TO CONSULT A CUSTOM HOLSTER MAKER
Lobo Gun Leather products are intended for use only with unaltered and unmodified handguns in the original condition, as delivered from the manufacturer!
Handguns that have been modified IN ANY WAY WHATSOEVER (including but certainly not limited to trigger shoes, custom triggers, extended or oversized safeties) MAY BE UNSAFE IN ANY HOLSTER!